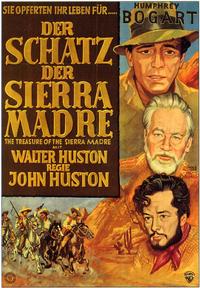 In which our intrepid trio pull up our pants, prospect for gold, and inspect this John Huston classic.
Yay/Nay (9:15) Gone Girl • The Equalizer • Hannibal • Girlhood • Veep (Season 4) • Jaws •
Trailer Hitches (25:56) Grandma • Sicario • The Martial •
Main Review (40:15)
Spoilers (1:06:15)
As alway, our show is sponsored by the InSession Film Podcast. Please follow them on twitter @insessionfilm or visit their website Insessionfilm.com and download their episodes on iTunes.
Email: firsttimewatchers@gmail.com • Twitter @1sttimewatchers • Tumblr: firsttimewatchers.tumblr.com